Whether it's a bad experience with a brand or receiving a faulty product, 67 percent of consumers have at some point contacted a business through its social media channels to provide negative feedback.
As a marketer, chances are you've already run into this situation – and if you haven't, you likely will soon. But there's no need to panic. Getting negative comments from customers is part of the game. And even though these complaints are being broadcast on public forums like Facebook, Twitter and Instagram, by following the right steps, you can create a successful social media customer service strategy that actually brings in and retains more business.
Social as a popular service channel
When social media first burst upon the scene, its main intention wasn't to be a customer service tool. But as more and more companies implemented social networks into their marketing strategies, and more and more people used the sites, they quickly became an effective way for brands to talk with and help their customers.
Marketers have got to take the good and the bad when it comes to social media. For every positive comment you receive, expect to get at least one negative piece of feedback. After all, people are more likely to complain than they are to offer praise. So be sure you are using your social presence not only for promotional purposes, but for providing exceptional customer service as well – if you haven't been already.
Not sure if you need to worry about this? Maybe these stats can convince you to boost your social service efforts:
Customers are likely to spend

20 to 40 percent more

with a business after a successful social customer service experience.

Brands can see as much as

three times more potential revenue

from resolved negative issues on social media than revenue brought in just from positive reviews.

Nearly three-quarters (71 percent) of individuals who have a good social customer service experience are more likely to recommend a business to others.
These numbers may sway you to bolster your customer service on social sites, but let's look at some real examples of social media customer service, and how they helped or hurt the respective brands.
The good:
When one Twitter user boarded his JetBlue flight, he was disappointed to find out that his TV screen was not working. He immediately tweeted the airline and got a reply within minutes. JetBlue was quick to not only respond but also offer up a credit for the malfunction.
The airline's actions showed they care about their customers and empathize with their problems. They were also eager to offer up a resolution  to keep the passenger happy and loyal.
The bad:
British Airways made a mistake in their social media customer service when one person sent out a Tweet about missing luggage.
The airline failed to respond, and the user decided to purchase a Promoted Tweet about his bad experience with British Airways.
After several hours, there was still no response, and the customer sent out another Tweet.
It was only then that the airline replied to the customer, listing its Twitter customer service hours and asking the individual to send them a direct message. 
For a global airline that operates hundreds of flights a day and flies all over the world, having set, limited hours for online customer services is not the right move. If you offer your services 24/7, then you should be prepared to monitor your social channels 24/7 as well.
The ugly:
In this example, the manager of Pigalle, a former restaurant located in Boston, did everything you shouldn't do when it comes to providing customer service on social channels.
One patron took to Facebook to post a review of her dining experience, and let's just say the manager did not take too kindly to her feedback.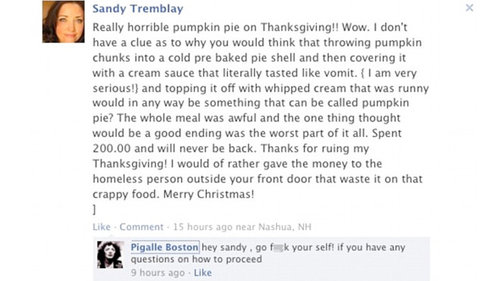 When this incident started to pick up steam online, instead of offering an apology and trying to remedy the situation, the manager stuck to his guns.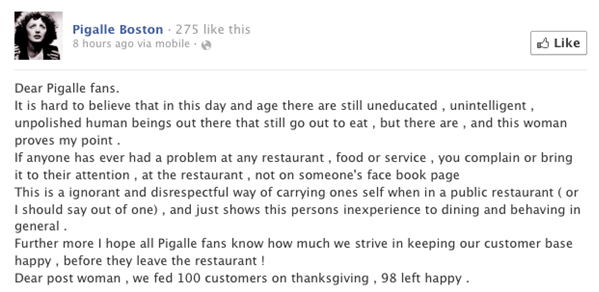 Eventually, he did issue an apology, and he smoothed things over with the disgruntled diner. But the damage was already done, as you can see for yourself.
Turn negative into positive
So what do you do when you get that dreaded negative comment on your company Facebook, Twitter, Instagram or other page? Well, obviously whatever you do, don't follow the lead of Pigalle's manager. Instead, focus on the strategies below to ensure you're providing an exceptional service experience online no matter how negative the feedback is.
Don't ignore it:

If you decide to ignore a negative comment, it's not going to go away. In fact, failing to provide an answer to a customer's issue on social media can increase your

churn rate by 15 percent

. Address the comment, find out what the issue is and work to resolve it.
Throw out the script:

People know a canned response when they see one. Don't rely on scripted answers for customer issues. This makes your brand appear robotic, and customers may think you are not focused on individually connecting with them.
Listen and empathize:

Customers want to feel like they are heard, so take the time to listen (or read) their concerns. Empathizing with their problems (much like JetBlue did) goes a long way to keeping them as loyal patrons in the future. You can even

have fun with it

, if the situation warrants a bit of humor.
Watch the clock:

As evidenced by the British Airways example, customers want their issues resolved – or at least addressed – within a reasonable time frame. Make sure you respond to negative feedback in a timely manner. Even if you can't offer a solution right away, acknowledging the comment helps turn negative feedback into a positive experience.
Learn from it:

All of your efforts are for nothing if you don't take what you've learned and apply it going forward. If you're getting the same negative comments over and over, that shows your brand isn't doing anything to fix the problem, and potential customers will be turned off.
Negative feedback on social media can be scary, but it doesn't have to hurt you. By taking the right steps, you can turn what might look like a bad situation and into a positive one – for both your company and your customers.